Higher Education on a Frugal Budget
Posted on July 22, 2013 by Malerie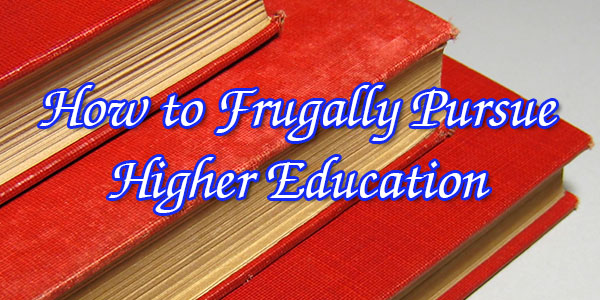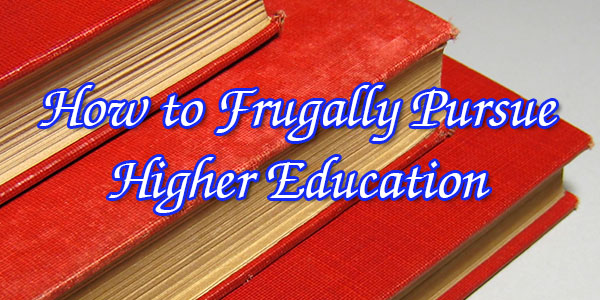 The cost of higher education seems to rise every year. Most lower and middle-class Americans cannot afford the additional education without federal assistance or getting themselves deep into student loan debt. Here are some tips to pursue higher education on a frugal budget.
Figure Out What You Want
Before you enroll in a brick and mortar university figure out what you want out of your education and career path. What kind of degree do you need for your dream job? Do you need a degree? Before crawling into debt develop a plan of action, so you get the most out of your pursuit and make a wise investment.
Consider Your Options
Completing basic courses at a community college then transferring over to a university for major coursework is an option that can save students thousands of dollars.
There are also many online universities offering bachelor and master degree programs for a fraction of the cost at brick and mortar universities. Not-for-profit universities like Western Governors University (WGU) will likely offer the best prices since they are privately owned and aren't "beholden to making profits to appease stockholders". WGU claims, "Simply, we're in the business of producing highly competent graduates, and nothing else." In certain states, students who qualify for state-funded financial aid may use the assistance to enroll in WGU.
Take Free Online Courses
If you are already in the work force and would like to continue your education to increase your pay, find a better job or simply to learn, you may want to look into taking free online courses. Many companies are springing up and offering massive online open courses (also known as MOOCs). Here's a list of some websites to look into:
Coursera – this company partners with some of the top universities and organizations in the world to offer free online courses to anyone wanting to further their education. Columbia and Princeton are among Coursera's elite affiliates. Their vision: "We envision a future where everyone has access to a world-class education that has so far been available to a select few. We aim to empower people with education that will improve their lives, the lives of their families, and the communities they live in."
EdX – this nonprofit endeavor was founded by Harvard and the Massachusetts Institute of Thechnology. Through their institutional partners, "the XConsorium", EdX presents "the best of higher education online, offering opportunity to anyone who wants to achieve, thrive, and grow."
Udacity – is backed by venture capitalists. Much like the above companies, Udacity offes accessible, affordable (and free), engaging classes that anyone can take, anytime. Courses allow you to learn through interactive, project-based exercises and videos. The company also offers options for college credit and certificates of completion.
The Saylor Foundation – this foundation uses excellent open-source materials from organizations like MIT and Carnegie Mellon that are packaged together and supplemented by hired instructors. Saylor breaks down their courses into three different sections: Saylor University (offering 278 courses), Saylor K-12 (offering 8 courses) and Saylor Professional Development (offering 17 courses).
A couple of other websites to look into are The Great Courses, Straighter Line and The Twenty Million Minds Foundation. If you're looking for low cost online PhD or doctorate programs read this article from Frugaldad.com.
Take Advantage of Deals
Summer courses are typically less expensive than full semester courses and many colleges and universities host seminars and other classes that are open to the public.
Occasionally, deal Websites like Groupon and Living Social will also incorporate course deals into their offerings as well. At the moment Groupon has deals on a platinum membership to UniversalClass, an Excel course, and Social Media Marketing Certificate course.