Be Frugal and Thoughtful This Father's Day
Posted on June 10, 2013 by Malerie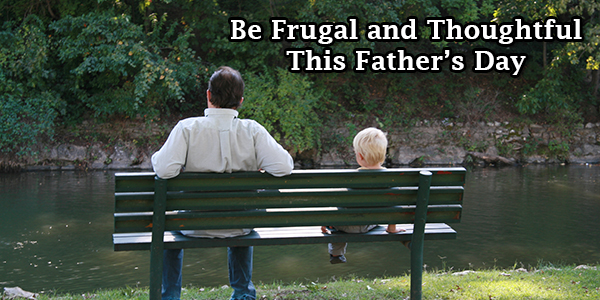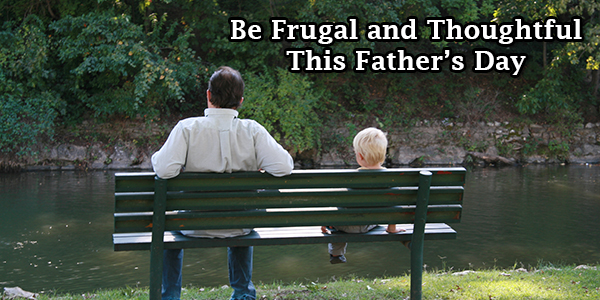 Father's Day is this Sunday – do you know what you're going to do for Dad? Here are some frugal and thoughtful ways to celebrate Father's Day.
Do the Chores
If your dad is the hardest worker you know, the best gift you can give him is a little R&R.  Go out back and mow his lawn, fix anything that he's been putting off, etc. If your dad is stubborn, do it while he's out (maybe send him on a fishing trip). When he gets back, it'll be a nice surprise!
Take Him Out
Round up your mom and the siblings and take him out for a day filled with fun activities you haven't done together since you were kids! Take him golfing (maybe putt-putt) or fishing as a family, go to the beach or catch a movie. He'll appreciate the quality time he gets to share with the family. At the rate time passes, we don't seem to get enough moments like that.
Make a Photo Book
Sites like MyPublisher and Shutterfly allow you to create a hard cover storybook of your memories with good ol' pops! Take a walk down memory lane and share each special moment together all over again.
Tip: If you're pressed for time put the photos into a slideshow in PowerPoint, put a song in the background (one of his favorites or one you dedicate to him) and you've got a very thoughtful (very free) gift.
Split the Cost
Is there a big ticket item that your dad has been eyeing all year? Do you have one or more siblings? Get together and splurge on a gift for your dad this Father's Day. Divide it out amongst all of the kids, maybe even mom, and it won't be too harsh on the wallet. A brand new set of golf clubs or some new fishing gear would definitely make most dads grin.
Tip: If the big ticket item he wants is a brand new Harley or another extreme, don't crush his dreams but encourage them by creating a dream fund. Open up a savings account or decorate a big glass jar, you and your siblings can contribute what you can toward it and your dad will know he's appreciated.
Customized Golf Balls
If your dad's an avid golfer, buy a dozen plain golf balls (or grab some used ones) and spruce them up with some sharpie markers. Unleash your inner artist and color the golf balls with his favorite team's colors and mascot, draw caricatures of your family or simply write out their names (it'll be fun to see who brings dad the most luck out on the course), have some fun with your kids and let them decorate as well.
A Picture's Worth a Thousand Words
Most stores like Walmart, and Costco have great photo centers that offer wonderful gift ideas (mugs, snow globes, canvases, T-shirts, calendars, mouse pads, even a photo throw blanket). Grab your most cherished picture with your dad and create your special gift.
Give Him a Message
Remind dad just how much he means to you this Father's Day by writing him a letter or compiling old home videos in iMovie or Windows Movie Maker and adding in your own special message at the end.