Top 20 Gift Cards of 2012
GiftCardRescue.com, the leader in the sale of second-hand gift cards, recently polled their customer base for their 5th annual "Top 20 Most Wanted Gift Cards of 2012". With hundreds of gift cards to choose from it's important to purchase the right one. Based on a national sample of approximately 20,000 gift card wish lists, topping this year's "Most Wanted" list is Wal-Mart. The number one spot is followed by Target and for the first time in the top three, McDonald's. GiftCardRescue.com's full Top 20 list is below, in order of popularity.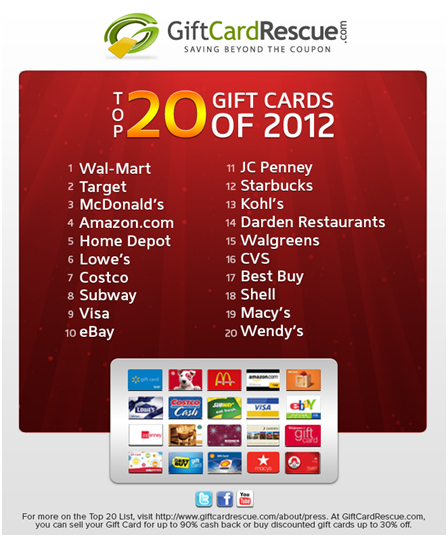 The following two tabs change content below.
Sydney Alcala is the Vice President of BillCutterz. She enjoys writing about saving money, frugal living and personal finance.
Latest posts by Sydney Alcala (see all)